Weddings, Reunions, Funerals and Showers: we offer options for small groups to large parties. The Celebration Barn can host 125 people, and up to 40 guests can stay on-site. The Lodge is a wonderful option for reunions and showers, with a banquet room and caterers kitchen on-site.
The Celebration Barn
Our newest venue offering, the Celebration Barn is our family's historic 1820's barn renovated with modern conveniences: handicap accessible with a commercial kitchen, modern bathrooms, bridal room, apartment and a fully equipped bar. This space accommodates 125 people.
The porch looks out over our landscaped pond, gardens and an unobscured mountain vista view.
The Lodge
Hosting events here for over 15 years, this is the perfect option for a tented wedding, smaller gathering or a more-intimate get-together.
There is the option to either rent just the banquet room and caterer's kitchen, or the entire building with five Adirondack-inspired bedrooms, which sleeps up to 12 people.
View our Events Pricing or rent the entire Lodge.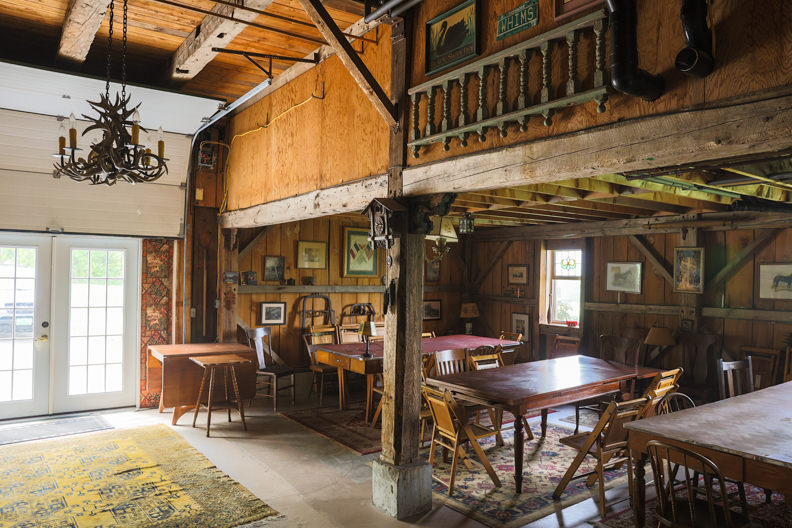 Banquet Room at the Lodge
A great option for a small shower or business meeting. Located on the first floor with priceless views, this room can host 50 comfortably and there is an adjacent caterers kitchen available to rent as well.
In addition, you can rent the entire Lodge which sleeps up to 12 for use of the bedrooms, common areas, kitchen and dining room table upstairs in an open concept layout perfect for parties.
View our Events Pricing Page